Whether photography is a new-found passion or you've been bitten by the bug for many years, reading up on other photographers, new trends in the field and simply admiring the creations of others can be found in online photography magazines. Here, you can find inspiration for your next photography shoot.
Check out our guide to some of the best magazines out there that are sure to spark your imagination – your latest image could be your next canvas print…
f11 magazine
Based in beautiful New Zealand, f11 is a free digital magazine published 11 times a year. It is made for professional and enthusiast photographers, designers and creatives who work with images, as well as buyers and collectors of photography. Flip through the latest issue to see award-winning photography and lengthy articles on intriguing photographic themes.
The 37th frame
Started by a photojournalist with the hope of providing a portal for great photojournalism, The 37th Frame is a place for sharing photography that inspires other photographers. This is more of a blog than a magazine but it serves as a great way to learn techniques and generate ideas. If you have been busy sharing your own work online, you could end up seeing some of it on The 37th Frame!
The Big Picture
Another blog making waves in the photography world is The Big Picture, which is produced by a group of picture editors at The Boston Globe newspaper in the USA. Entries are posted every Monday, Wednesday and Friday to highlight "high-quality, amazing imagery with a focus on current events." Images come from companies such as Getty Images, Reuters, Associated Press or public domain sources such as NASA or from private photographers.
Apogee Photo
Started as a text-only internet news group in 1995, Apogee was used as a forum for photography teachers to improve their teaching resources. Apogee turned into a photo magazine in 1996. It aims to educate and inspire thousands of photographers and has contributors from around the world submitting articles and examples of their work.
1000 Words
Quarterly online magazine 1000 Words is dedicated to contemporary photography in the UK and beyond. Each issue is filled with exhibition and photography book reviews, along with essays and interviews in response to carefully selected imagery around a particular theme. Started in 2008, the magazine is committed to exploring "the limits and possibilities of the medium whilst stimulating debate."

Deep Sleep
Another UK-based quarterly is Deep Sleep, which was founded by a small group of contributors sharing the same office space in Shoreditch, London. Each issue follows a theme with all contributors giving their take on it through their photography. Deep Sleep seeks to celebrate both award-winning and exhibited contributors as well as emerging young talents in search of an outlet for their work.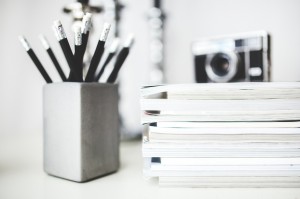 Following on from the photography education theme, why not check out the ParrotPrint guide to photography museums? We've also got a great selection of photography books to flick through for tips to improving your techniques.