Get your cultural fix this autumn with our pick of interesting exhibitions to visit. Whether it's a family day out, a romantic stroll through a gallery or a trip that inspires your next piece of photography, taking the time to appreciate another artist's work can only help you to hone your photographic style.
If this trip inspires you to make a canvas print of your next great image, let us know about it on Twitter or Facebook. We love to see all your photos on canvas!
Best for a family day out
When: 30 September 2016 - 23 April 2017
Where: The Whitworth, University of Manchester
Price: Free
Type: Art
For the adults there's the Marcantonio Raimondi (c. 1480-c. 1534) exhibition, which features work from one of the "radical originators and innovators" of the European tradition of printmaking. He is best known for his collaboration with the Renaissance artist Raphael. This is the first Marcantonio Raimondi exhibition for thirty-five years and the first ever in the UK.
For the little ones, Whitworth provides free art hampers filled with materials to get them inspired to make, draw and build anywhere they like in the gallery. So you can enjoy a bit of culture while the children get creative.
Best for some cultural 'me time'
When: Until 23 October 2016
Where: National Portrait Gallery, London
Price: £7/£5.50
Type: Photography
Go to the National Portrait Gallery in London to see the work of legendary Memphis photographer William Eggleston. Known for creating a whole genre of "psychologically ambiguous Americana", Eggleston created his portfolio of imagery from apparently mundane bits of his home town.
The exhibition shows 100 images and surveys his entire career from the 1960s to the present day; said by the gallery to be the most comprehensive display of his portrait photography ever. Be prepared for experimental uses of colour – you may learn a thing or two!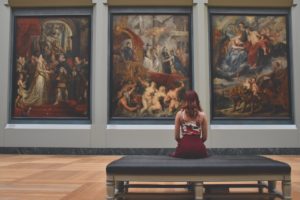 While your creative juices are flowing, why not check out our post on combining photography and illustration for creative wall art? And for the finer points of making your images look the best they can, read the Parrot Print guide to photo editing.