It's beginning to look a lot like Christmas. Snow is starting to fall, the John Lewis advert has made an appearance and people are beginning to switch on their Christmas lights.
Whether it's a neighbour's display or the bright lights of the town centre, seeing the lights switched on is a tradition for man. Will you be heading to a  switch on to get the whole family in the festive spirit?
Here at Parrot Print we absolutely adore Christmas. So, to ensure you capture these magical moments, we've put together a Christmas checklist for you.
These tips will help you make the most of light displays, and inspire you to create Christmas canvas prints that'll last a lifetime, not just Christmas.
The Right Moments To Capture
The Full Display
It's the moment everyone has been waiting for - the grand switching on - and it's at the top of our checklist. Capturing the full display is what these events are all about, and the best way to ensure you snap incredible images is to find the right place.
You need to be central to the display and make sure the whole thing fits within your lens. This doesn't mean you should stand right at the front of the crowd. Sometimes taking a step back can help you see the full display and result in the best images. Don't forget your tripod!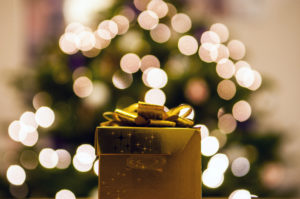 The More The Merrier
When it comes to taking images of twinkling lights, it's not just the main attraction that you can capture, but the people around you too.
Add another element to your collection of images by snapping up the joy and excitement on people's faces as the display lights up. The expressions you'll capture will fill your canvas prints with the emotion of Christmas.
You may miss the 'big' reveal, but it'll be worth it! If you're taking pictures of friends or family, your images could make for great Christmas presents too!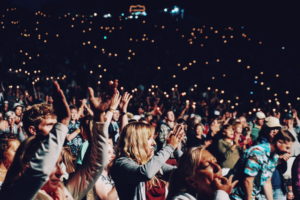 Get Close Up
Make your canvas prints even more interesting by capturing close up shots of the lights.
Find an area where there are multiple colours, shapes and even textures. Images of these will create more abstract photos and add more depth to your canvas prints.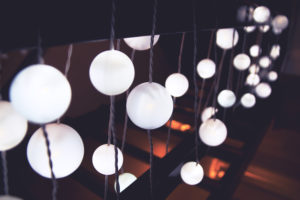 Using The Right Equipment
To achieve the right images you have to use the right equipment. If you want to seclude a section or one decoration, we advise using a macro or all-purpose wide angle lens.
On the other hand, if you want to get the whole display or house in the picture, use a wide angle lens. With the lights flashing and people randomly walking past, it's important not to set a slow shutter speed on your camera.
It also helps to use a tripod and make sure your camera has a low aperture and a higher ISO. We have more tips on how to take images in low light settings in this photography post.
The Best Displays
If you're putting in a lot of effort to capture light displays, you might as well make sure they are the best. The most famous in the UK is perhaps The Oxford Street Christmas light switch on. This year the Oxford Street lights will be turned on by Craig David.
The much-anticipated display will include 1,778 snowball-inspired decorations plus an incredible 750,000 LED lights. Wow! It's set to be one of the most spectacular displays with people traveling from all over to London  and beyond just to catch a glimpse.
Another favourite among many up north is the unveiling of Fenwick's window in Newcastle. Every year crowds gather around Fenwicks to see what its Christmas theme will be, and this year, it's the magic of Beatrix Potter.
Celebrating its 150th anniversary, the windows are filled with characters and scenes from the book. It may not be the most Christmassy, but the audience love it. It's something that resonates with a lot of adults and children just love the animals.
Are you heading to any displays this winter? Make sure to share your photos with us on Facebook or Twitter, and from all of us here at Parrot Print, we hope your Christmas is merry and bright!