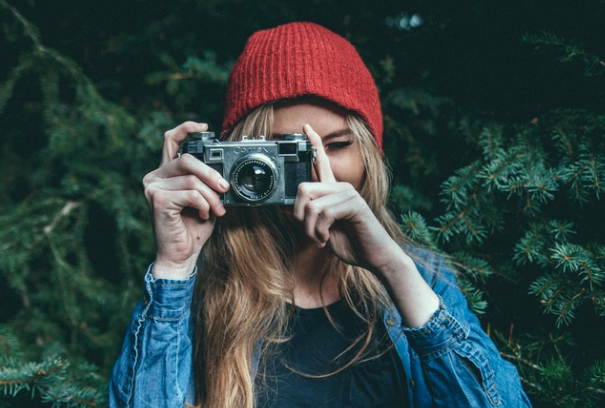 Celebrities live their lives in the spotlight. Whether they're a pop star or supermodel, getting constantly captured on camera comes as part of their job. For many of them being papped by snappers can be an annoyance, however, there are a few celebrities who would prefer to be behind the camera.
Here at Parrot Print, we've found five celebrities who have a keen key for photography and have landed some incredible jobs. Take a look at our selection, some of the names may surprise you...
Brooklyn Beckham
With a mum who's built a fashion empire and a dad who's a football legend, it comes as no surprise that Brooklyn Beckham has landed his dream career. According to The Mirror, David revealed that Brooklyn has a passion for photography and soon after the 16-year-old landed his first job shooting the models for the new Burberry Brit fragrance campaign. For many of us becoming a photographer for an iconic fashion brand is a mere dream. If this is Brooklyn's first paid gig, then we're excited to see what he'll do next.
Brad Pitt
Pitt first started getting into photography back in 2005 while working on the movie Mr and Mrs Smith. Fast-forward to 2008 and Brad made his professional photography debut with W magazine. Not only did Brad shoot the cover for the magazine, he captured images of one of the world's most photographed women, his wife Angeline Jolie. This was a very personal project and we're sure you'll agree the images are simply breathtaking.
Elijah Wood
Elijah not only loves photography, but he enjoys lomography. Lomography started out as a spontaneous artistic approach to photography. This style is now a cultural movement, which involves unique, high contrast photos with vignettes and soft focus. If you want to learn how to capture lomography on a canvas prints, just like Elijah, then check out this post.
Lucy Liu
Did you know that this Charlie's Angel has had quite a career as a visual artist? Her flair for photography started when she was studying mixed media in college and went on to become a professional painter. In 2006 Lucy held an art show and all the profits she made were donated to UNICEF. Fast-forward to 2015 and Lucy's added director to her CV, as she's directed episodes for the TV series Graceland and Elementary.
Kate Middleton
Princess Kate quit her job as an accessories buyer for Jigsaw but still makes time for her love of photography. Kate's love for photography came about when she was studying the subject as part of her art degree. Although she enjoys abstract photography, it's clear she's talented at taking portraits. We're talking about these adorable photos of Princess Charlotte. Kate broke the royal rules and took Charlotte's first photos instead of hiring a professional. I'm sure you'll agree she did a brilliant job!
Do you know any other celebrities that love photography? Please share them with us on Facebook and Twitter